For years I was intrigued by facesitting phone sex but I could never really get over the fear of possibly hurting or squishing the face of the guy I was fucking. I know that sounds kinda strange, But, I'm a BIG girl…a BBW, and I couldn't get the picture out of my mind that I might suffocate the guy. Just like in the movies when someone is putting a pillow over someone else's face to suffocate them to death…I know you know what I mean, right?? As much as I wanted to try it, and once in a while a guy would ask me to do it…I just couldn't get myself to do it.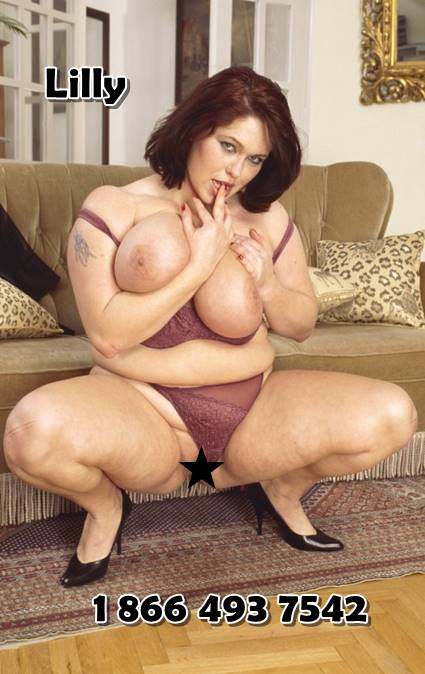 Well, that has totally changed. Now I fucking LOVE facesitting and get a totally different type of pleasure when I do it. It's not just hype… it's fucking awesome and I can't get enough now!!! lol I start by getting into a kneeling position over the guy's chest and this lets me put most of my weight on my legs and not his face, (and I'm a BIG Girl— take a look at my photos on the BBW section on this website and you'll see what I mean.) I prefer to facesit in the reverse cowgirl position so I can watch his cock get hard with the anticipation of what's about to happen. If I see his cock getting more engorged and hear the excitement in his breath, then position myself so that my thick thighs are on either side of his head….facing his cock. when it feels like I'm in full balance I make sure he has his arms and hands in a position he feels is comfortable. Then I slowly lower my body onto his face so that my cunt is making contact with his mouth…Then I start to grind and twirl at a slow speed and dance my wet pussy all around while he is licking me, giving me an enormous amount of pleasure and makes my pussy start squirting into his mouth. It feels AMAZING!
The reason I choose to sit in the reverse cowgirl position is that sometimes I like to give him a handjob while he's licking me…my sweet scent and cream make him move his tongue in me even more. I sometimes prefer to suck his cock too, bending my body over a little so that my mouth reaches cock and I suck and lick it all around and I'll feel his body move around underneath me and sometimes get to taste a bit of his pre-cum off the tip of his cock…and I get even wetter!
But the totally BEST PART for me is when I sit up straight, move myself a little forward which lets him know I want him to lick all around my tight puckering asshole until he gives me my ultimate pleasure of having him stick his tongue as deep as he can straight up into my asshole, fucking me anal with his tongue while I move slowly up and down to feel wet thick tongue as deep as he possibly can go. This always makes my juices flow while he eats me and tongue fucks me…..my big butt sitting perfectly on his mouth and face. My pussy is wet just thinking about it! I can't get enough!
Lastly, you can try using a queening chair (a foldable chair that can be adjusted by height with armrests and a soft spot for knees.) The queening chair can hold up to 300 lbs (I checked..lol). But the chair can come later after you get your first taste (literally) of the pleasure of facesitting!
Face sit today…queening tomorrow…
Call me at 1 866 493 7542 and ask for Lilly for facesitting phone sex.