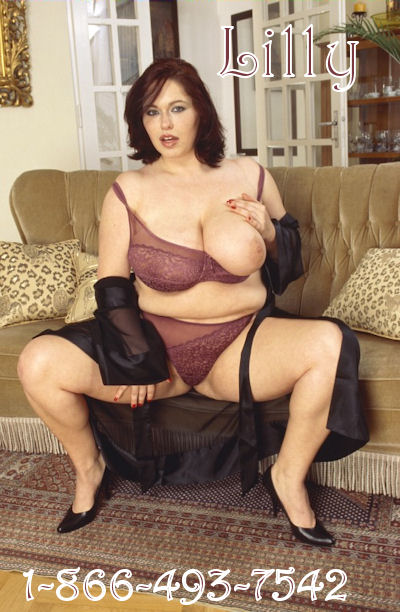 Hi, I'm Lilly, and you can call me Miss Lilly or Mistress Lilly. I've been in the mood here lately to have lots of facesitting phone sex with submissive men that dream of being smothered underneath my round plump Queen sized ass. It's even more exciting for me when the submissive man in question is a skinny little thing that just loves worshiping a big beautiful Domme's ass. It's not just ass worship that I'm looking for though, I want to have you take your time worshiping my chubby pussy too. Something about skinny submissive men really makes me want to turn them into my chair, and just smother them under my amazing fat ass. You guys know you think about that. Sure, you'll enjoy worshiping my ass and pussy with me bent over, or on all fours. Don't you think your place is under my royal ass though? I think so, and I think you know it too.
Smothering men with my huge jugs, my big thighs, my plump pussy and my wide ass are things I get into doing when I take control over a man. I'll own you, control you and use your body in anyway that makes me a happy woman. You don't want to disappoint me.
For all of you kinky men that want to sniff and inhale my scent? I like getting extra sweaty and stinky and making you sniff away at my glorious ass and pussy while I laugh at how helpless you are. If you're not careful sniffing my sweaty musky body just might be your new roleplay addiction. That's alright with me though, I'll just use you and make sure you know where your place is when it comes to me. I'll make you my living furniture that exists for me to have a place to plant my BBW body and wait for the worship that I deserve.
Lilly
1-866-493-7542
aim/yahoo lillylovesithard