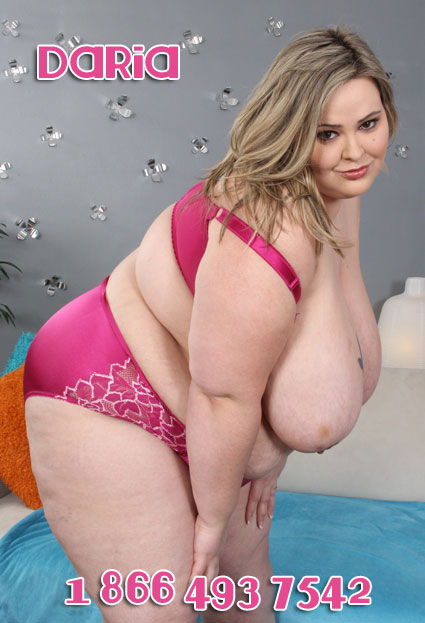 Hey there big boy!!  I know your tired of all those skinny small boobed girls.  You know, the one's who have no meat on their bones, no ass an seem immature.  I know just what you need! Some BBW phone sex, an I am just the one you want.
I'm that size H titted woman who turns heads when I walk into the room. Wouldn't you like to take me out as your date.  Just imagine, a work party you take me too.  I walk in with my huge tits  showing through my very low cut top, an a short skirt hugging around my huge ass.  Everyone looks at me an knows your going to have a good time tonight.  We have a few drinks an you take me back to your place.  Much to your surprise, I packed a special tiny outfit for me to wear for you!!! Thats right sexy, I know it doesn't look like much, but with a BBW they really don't make too many outfits.  Plus, I know your just going to rip it off of me with your teeth anyway….so I just am going to wear these sexy thigh highs.  They are extra big to fit over my huge thunder thighs!
I slip on my thigh highs an walk over to you sitting on the couch.  I smother your face with my huge tits.  I place your face right inbetween my huge boobs an shake back an forth.  I pick up my fat, flabby stomach an place it right on your cock.  Thats right sweetie, I want you to fuck my stomach fat…..mmmm hmmmm You lay back as you start to rub your cock on my stomach.  I press up against you, an you stick your cock right in my big belly button which feels so tight around your dick.  You try to reach around my big body an grab my ass as you fuck that belly.  Your thrusting an pushing an explode deep in my stomach.  I take my finger an scoop it out an suck it all off my fingers. Yummy. Can't wait to have you fuck me again.
Looking for some hot, BBW phone sex, call 1-866-493-7542 an ask for Daria.
AIM and Yahoo: DaringDaria4u