Kinky phone sex can have a wide variety of topics. I know I could just simply label what it is, but it's difficult to do that sometimes when guys want to engage in multiple things that make their dick hard. I have a caller who is super dirty and loves changing things up. A big girl like myself finds that to be very exciting. Especially knowing how turned on he gets for my huge titties and juicy fat round ass.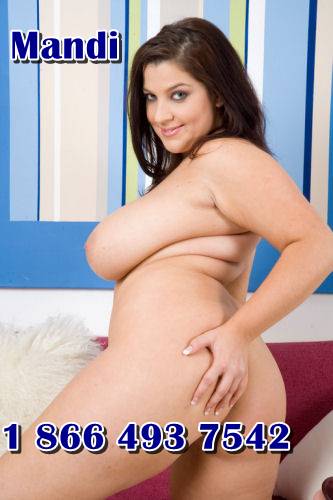 I had the pleasure of talking to him just a few days ago. I won't go into just how dirty and nasty he is because it would be crossing the limit line. But I can say that he loves getting his ass probed and fucked with tampons. The other day I got the pleasure to wrap my mouth around his long hard dick. I was in the mood to indulge in a sausage that plumps when you cook it. Having his kinky phone sex dick in my mouth was much better though. He found my strap-on and was wondering who I used it on. He was going to expose my dirty little secret so I agreed to suck his dick really good. In the back of my mind, I knew that he really wanted me to fuck his slutty ass with it though.
As I was filling my hungry mouth with his big dick I could taste his pre cum. He threw me off when he wanted to sixty-nine. But I can't think of a better way to suck a man's dick and get my fat juicy pussy licked at the same time. Not to mention get my juicy ass licked as well. His tongue licked and probed up and down my cunt. It twirled and dug deep into my round asshole as I sucked his dick. As I was about to slide his pole between my big melon titties he said "Mandi I want you to cum all over my face." He's such a taboo kinky phone sex guy to have fun with. He pleasured my fat pussy and big ass so well that I gushed all over his face.
I knew he was going to be ready to cum soon. But it wasn't going to happen until I fed his tight ass my strap-on cock. He was ready to take it in any position that would have his fucking load plastered all over my huge titties. I was thirsty to lick and eat it all up too. I can definitely tell you that a big busty girl like myself is very freaky and knows how to work my strap-on so good that you never forget it. I also love it when I can edge a man's ass with my tongue, finger, and strap-on. Being open-minded doesn't mean a person is labeled as anything. Unless they want it to be. It can simply mean that they love stepping outside of the box when it comes to fucking and kinky phone sex.
1-866-493-7542. Ask for Mandi.
Email: PlumpNBustyMandi@gmail.com