I'm the new girl around here and I'm ready to get naughty and freaky. A stiff hard dick is a dick that is useful for me. I bet you can make this happen. I want you to tell me how much you want to fuck me in every one of my holes during anything goes phone sex. Demand me to lay on my back or get on my hands & knees so you can thrust that hard and throbbing dick in and out of my pussy. You will feel how tight and wet my fat pussy is. Fuck me rough and fast too. Don't give me any mercy. I want to see how much you can make me cum, how hard you can make me breathe, and how loud you can make me moan and yell. If you really know what in the fuck you are doing, I will squirt and wet up those bedsheets.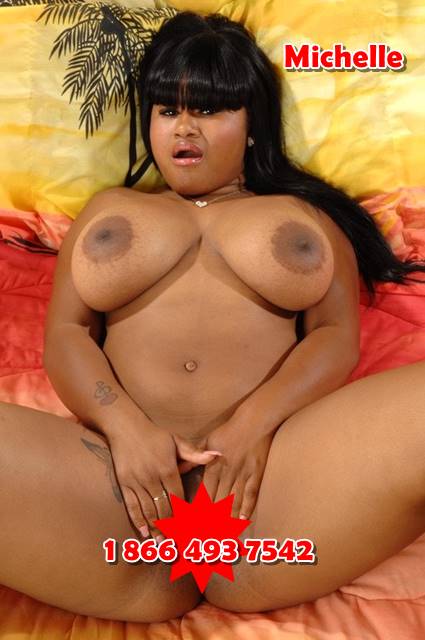 Any man who can make me squirt, I automatically let him fuck me in my ass if he desires to. Damn, how I love to get ass fucked. Doggystyle is where it's at since I want that cock to go deep and I want my ass cheeks to jiggle and to be spanked. If I'm feeling really nasty and I like the guy and his vibe, I'll suck his dick as soon as he pulls it out of my asshole. If I did this to you in our anything goes phone sex session, I know it would blow your mind. I wonder would you have a hard time from busting your load all over your hand too early on your end of our phone call before I'm done with you? If so, imagine me laying on my back. Let's visualize you licking my clit with my legs wide open and my hands grabbing your head.
I want to make your lips and chin dripping wet. I'll forever be your submissive bitch if you can make me cum and squirt, back to back. You can have me do whatever you like. Pass me around and share me with your friends. If you really want to punish and control me, force me to have a train ran on me by a room full of big black cocks. You will love watching me get ran through by black men with big stallion dicks.
Let's have kinky anything goes phone sex. Just like Normani and Cardi B. state in their new song, "show me your wild side, boy." Call me at 1-866-493-7542 and ask for Michelle. I'm waiting on you. *blows kisses*