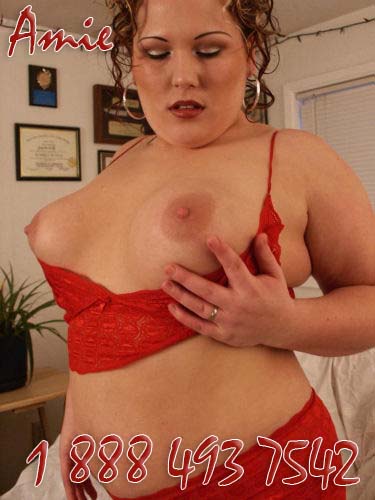 Oh honey… you just found your fetish fantasy slut with this thick and sexy BBW phone sex girl and I couldn't be any happier. My name is Amie and I'm so excited to explore this avenue with you. I love my body and there's not one thick inch that I'm ashamed of. I enjoy being the center of attention when I wear sexy outfits that show off my vivacious curves. I love to have my thick thighs caressed and my fat ass squeezed and spanked. My curves are what make me feel sexy and I would love to let you caress this body and for you to do any and everything that makes your cock hard for me.
My fat pussy lips get so sticky when you rub my belly and suck on my fat tits!  I know your cock is so hard and throbbing just reading about me. Let me be the sexy BBW phone sex girl who brings your fetish to life. I should warn you though…  this bald plump pussy is so fucking good you will crave it and I'll be your new addiction that you won't be able to just stop at any time. You will want to spread my thick thighs and kiss down to my pussy every chance you get. I get so wet and juicy so prepare for this sweet goodness to be all over your face.
Oh and yes my pussy is so very sensitive when it's being kissed and licked. You'll be able to  feel my body shake as you kiss and tease this fat girl pussy! Your chubby and naughty fetish whore wants your tongue in all of my holes! Nothing is off limits with me. Just know when I cum, I cum hard and with smother your face in between my thighs. Don't worry though…I'll let you up to breathe when I feel you need too! LOL So hurry up and call this BBW phone sex slut, Amie. You will not be disappointed.
AIM: ThickNJuicyAmie4U
Yahoo:ThickNJuicyAmie