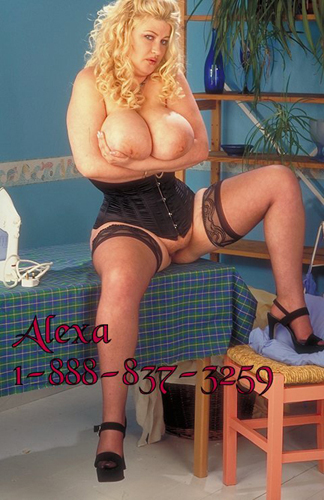 I walk you in by your collar and leash. You know this place and what happens here. I have you walk across the dungeon floor and place my toy bag at the play station with the large St. Andrews cross. You already know how I like my toys laid out. First you lay out my floggers, then my canes and of course my paddles. Naked for all to see you stand before me with wrist and ankle restraints in place. I instruct you to stand in front of and face the cross. Securing you by your restraints to the St Andrews cross with chains marks the final preparations for play. Placing the ball gag in your mouth I whisper in your ear "Your safe work is 'red'". With that said, BDSM play begins.
Ever wonder about Bondage and Discipline? Curious about S & M ? Call me for BDSM phone sex .I'm experienced and enjoy what I do. Cum let me share my experience with you. If you want to find out more call me –
Miss Alexa for BDSM Phone Sex. 1- 888 837-3259
Yahoo – BBW.Alexa
AIM – BBWAlexa
Cum chat with myself and the other phone sex girls in our free sex chat room.